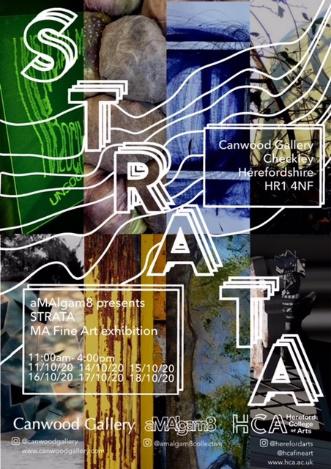 Wednesday 10th to Sunday 18th October 2020
Canwood Gallery, Checkley, Herefordshire, HR1 4NF
Exhibiting artists: Tottie Aarvold, Johnny Burrage, Natasha Gordon, Joanne Humphries, Ciara Lewis, Wendy McCleave, Jess Nicholls, Amanda Pugh
@amalgam8
https://www.instagram.com/amalgam8collective/
www.canwoodgallery.com
We are proud to announce the upcoming exhibition from eight Masters of Fine Art from Hereford College of Art with the launch of their newest show STRATA.
The show's name takes its inspiration from the layers of diverse artwork within the newly formed amalgam8 art collective. On show will be a diverse collection of new contemporary drawing, painting, sculpture, installations, film, video, photography, projections, ranging from large pieces to smaller artworks as well as limited edition prints, jewellery and cards.
When many other art institutions have cancelled their end of year graduate and post grad shows or opted for an online presence, Hereford MA show promises a unique opportunity to see this eclectic mix of contemporary art in nearby Canwood Gallery.
All eight artists are exhibiting new work which has resulted in an innovative show, despite the upheavals to working practices through the Coronavirus pandemic. If anything, continuing to work in the face of adversity has only brought the creative cohort closer.
The ambitious proposal to exhibit 'in 3D' has motivated the emerging group of artists to really put their work, the college and the county on the map as a formidable force within the contemporary art world. The exhibition has been facilitated by the tireless support of Dr Daniel Pryde-Jarman, Head of Department, Dr Jonathan Whitehall and Mark Houghton who were determined that the students should have a chance to showcase their work.
Following current social distancing guidelines, we will open to the public from 11-4pm from Sunday 11th October until Sunday 18th (Closed Monday 14th and Tuesday 15th.) in the stunning location of Canwood, which boasts a permanent contemporary sculpture park, places to enjoy picnics and ample parking. There will also be an opportunity to meet the artists, not only at the preview but throughout the show when they will be on hand for informal tours/talks.
The exhibition promises to be a celebration of the fighting fit spirit of the art world in the West Midlands.
Please spread the word and make this inaugural return to the arts one to remember.
Canwood Gallery, Checkley,Herefordshire, HR1 4NF
Tel 0777 613 8668 | Email: This email address is being protected from spambots. You need JavaScript enabled to view it.